Last October 17 (Tuesday), President Duterte declared Marawi 'liberated from terrorists' after the reported death of Isilon Hapilon (Abu Sayyaf leader), and Omarkhayam Maute (Maute leader). According to reports, since the onset of Marawi battle last May 23, about 1,000 were killed, and about 400,000 displaced residents were affected due to the armed conflict.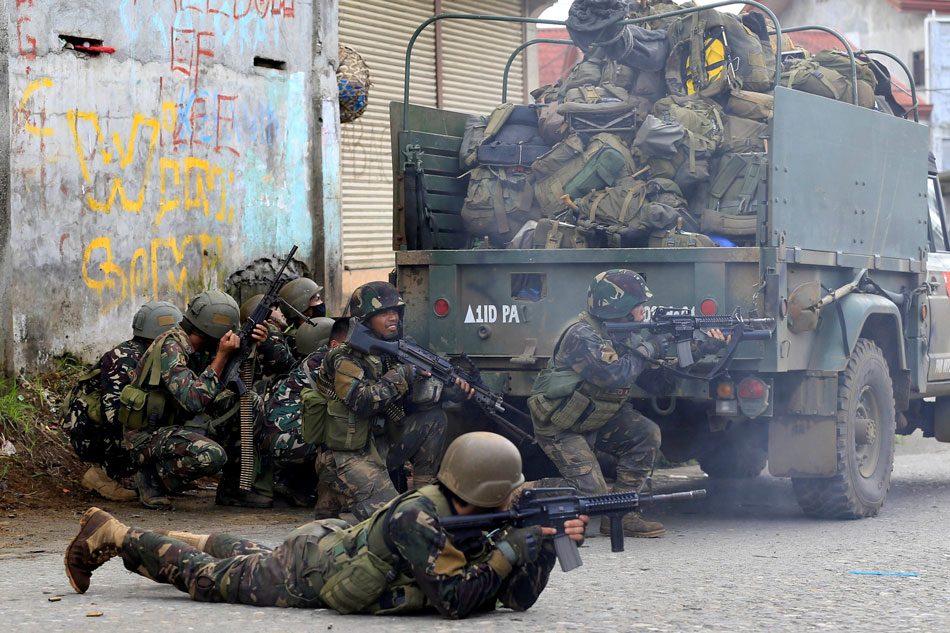 Rebuild Marawi
We now come to face a more difficult situation. The post-war challenge is to rebuild Marawi.
Some say that it would take six (6) or more years to rehabilitate Marawi. Plans would entail rebuilding of establishments, roads, residential houses, among others. This greater bulk of work, we can entrust to the government.
But as an ordinary Filipino, what can you and I do to help our mga kababayan in Marawi rise again?
Through DSWD
As a public servant, I would like to share with you some modes through which the government enables us to extend help to the victims of armed conflict in Marawi. This is through the Department of Social Welfare and Development (DSWD).
Last Sept. 27, I stumbled upon a post on a Facebook group that says DSWD is need of volunteers for packing relief items for people in Marawi. DSWD National Relief Operation Center (NROC) is in Pasay City, Metro Manila. Despite its long distance from my place (Caloocan City), the call to action captured me, and I did not hesitate to immediately connect with the contact person indicated in the post. Jaiza, 09176691207.
I asked for further details on how we can volunteer in the relief operations. I said 'we' because I was already thinking of tagging along my partner Jikjik, mama, and some other interested friends.
Volunteers must be 18 years old and above; must come with proper clothes (i.e. closed-toe shoes, no sleeveless and shorts); schedule is from Monday to Saturday, 8AM-8PM.
I already marked Oct. 21 for the volunteering opportunity, however, I received an update from Jaiza last October 13, 2017: As of the moment, the repacking activity is postponed. We will keep you posted for the resumption. Thank you.
As of today, I haven't received any update yet on the resumption. As soon as I get one, I'll post it on this blog.
I published a teaser information on my Facebook timeline, and one OFW asked me how she can extend help, and what are the preferred relief items.
I called DSWD at tel. no. 851-2681. They told me that we can directly take our donations to the DSWD-NROC in Pasay City. Preferred items are sleeping mats, slippers, and food (which would not expire within at least six months).
For cash donations, I found the below information on Rappler, but also verified it with DSWD Central Office through tel. no. 355-2849.
DSWD Dollar Saving Account for Foreign Donation
Account Name: DSWD FOREIGN DONATION
Account Number: 3124-0055-81
Swift Code: TLBPPHMMXXX
Bank Address: Land Bank of the Philippines, Batasan Branch, Constitution Hills, Quezon City
Peso Current Account
Account Name: DSWD DONATION
Account Number: 3122-1011-84
Bank Address: Land Bank of the Philippines, Batasan Branch, Constitution Hills, Quezon City
Donors should notify the DSWD Finance Management Service or Cash Division of their donation through phone (355-2849 / fax: 931-8127) or email (finance@dswd.gov.ph / cash@dswd.gov.ph). Please send a screenshot/photo of validated deposit slip together with your information (name, nationality, and address), and INTENTION (e.g. for Marawi displaced residents).
The OFW who asked me (which was once my churchmate, now residing in USA) prefers to just send cash donation to my personal bank account and let me buy the stuff for kids in Marawi 🙂 You can do the same. It would be my pleasure to serve as your hands and feet for this. For my bank account details, you may email me at lunadanipog@gmail.com.
Share the word 🙂
You may start sharing this information with your family and friends, here and abroad! You may also rally the youth in your church or community to gather donations; better yet, if you have a means of transportation, you may allot a date for your group to personally go to DSWD-NROC in Pasay City to volunteer in the relief packing.
These are just some ways of showing our love for our kapwa Filipinos in Marawi. If you know other means, feel free to share through the comments section below, or start publishing information in your own social media platform or blog 🙂 The Facebook Live video version of this blog can be viewed here.
Pray
Of course, as we help Marawi rise from the ashes, it is high-time for all of us to join our hearts in prayer. Pray for the government, our leaders. Pray for Marawi. Let us pray and ask God/Allah to grant us peace and unity. Let us ask for renewed hope and strength as we collectively face the challenges of tomorrow. This is a time to rediscover our strength as one Filipino people, and reflect on God's mercy and faithfulness to our nation.
I'd like you to join me in reflecting on this utopian hope written in the Bible:
I heard a loud shout from the throne, saying, "Look, God's home is now among his people! He will live with them, and they will be his people. God himself will be with them. He will wipe every tear from their eyes, and there will be no more death or sorrow or crying or pain. All these things are gone forever." ~ Revelations 31:3-4
Assalamualaikum! (Shalom!)
---
Related article: To rebuild Marawi
Inspirational video: Awit sa Marawi (sung by Esang de Torres) | Lyrics here